Comfort Dentistry
Westwood Family Dental Launches "Comfort Dentistry" for Sedalia & Cole Camp Dental Patients!
For All Procedures & All Services Including Family Dentistry Services, Implants, and Cosmetic Dentistry Services!
You can feel the difference when you walk in our door. The warm and welcoming presence of our staff and our dental practice, signal to you this is a different kind of dentist. A dentist that understands and calms your anxiety and fears, allowing us to provide you dental care and treatment at a level you have never experienced before. Are you ready to experience Comfort Dentistry?
Rather than sleepless nights, fear and paralyzing anxiety just thinking about your upcoming dental appointment – think about a Pain Free, Anxiety Free, and a Comfortable, Relaxing Experience. We understand a "fear of dentists", and we also understand that even under the best of circumstances, nobody gets excited about going to the dentist. We understand a dental visit isn't on your bucket list, but we also understand how important your dental health is to your overall health. This is why we are launching a Comfort Dentistry program in Sedalia, Cole Camp and the surrounding area.
What is "Comfort Dentistry"?
We are proud to offer our dental patients a warm, welcoming environment in which to receive their routine, preventive, family, and cosmetic dental care. When Dr.  Wilson started his practice at Westwood Family Dental, his desire was to create a dental practice that he, as a dentist, would be pleased to go to. He was tremendously concerned about patient comfort and convenience. Simple things like scheduling patients so they didn't have to wait to get in for their appointment, or having the best technology to properly serve patients. He has accomplished all this and more, and now with the introduction of Comfort Dentistry, is continuing to blaze a trail across the Sedalia, Cole Camp and the surrounding area  for patient comfort.
Dr. Wilson and his staff believe in preventive dental care education, teaching patients the proper ways to brush, floss, and otherwise maintain healthy teeth and gums. More than that, though, we also take the time to get to know each patient and to discuss with them their dental concerns and challenges. We believe that we form a team with our patients, working together to achieve full dental health.
Our staff goes out of their way to ensure that every patient is treated with respect, is given the best dental care available, and that each patient understands their dental diagnosis and possible solutions to their issue, as well as costs. There is no single "right" solution for every dental situation: each patient has their own unique dental needs and concerns, and we strive to address those with professionalism and compassion.
"Comfort Dentistry" pretty much says it all, doesn't it?
We are committed to giving you the best dental experience of your life. It all begins when you walk in our door and are welcomed by our staff. This is the beginning of your visit, and sets the tone for the rest of your "Comfort Dentistry" time spent with us.
First, Enjoy a beverage provided by our staff.
Beverages include:
The Comfort Zone:
Your Comfort Dentistry Treatment Room 
As you are shown to the exam room; as you sit down and sink back into the dental chair – we will be there with you – offering you the best in comfort dentistry:
Warm blankets (dental offices are always cold, aren't they?)
Warm neck rolls
Warm facial towel
Pandora music
It's just like being curled up on the couch at home. Slowly drift away and relax before your treatment even begins.
Are YOU Ready to Experience Comfort Dentistry? Call to Schedule Your Appointment Today! Click to Call.
Comfort Dentistry Will Ease & Calm Your Dental Fear
It is estimated over 30% of the population does not go to the dentist because of dental fear. We are changing that with our modern and effective comfort solutions that allow all to receive modern and fear free dental treatment.
If you have a fear of the dentist, you're not alone. As your trusted dental care partner, we are well aware of how frightening the thought of the dentist's chair can be. With that in mind, we've created a physically and mentally comfortable environment at Westwood Family Dental.
We offer a number of sedation options to calm and relax you before and during each appointment. Our staff and providers always use a gentle touch and refined dentistry techniques; however, we know that offering a wide range of sedation services increases the treatment benefits and your comfort.
Everyone fears something. For a lot of people, it is heights, closed-in spaces, clowns, or the dark. And for a good many people, it's the dentist. Most people know they have no reason to fear the dentist – after all, the dentist is there to help you – but this does not always help to ease their fears. Fear of injections for anesthesia, the drill, and even just the thought of someone putting their hands in your mouth can be enough to cause you to forego the dental care that you need.
Our promise to our patients is simple: To make the experience in our office be one that is above the patient's expectations in terms of care and compassion. We can do no more than that as Dentists or people.
Sedation Dentistry:
Many people are under the assumption that Sedation Dentistry means you are asleep for the entire dental procedure. This is rarely the case. There are some procedures that may require full sedation, but for most, what they are speaking of is Conscious Sedation Dentistry. You are awake and can talk to the dental provider, but are incredibly relaxed and free of worry or fear – the STRESS is gone!
For those that truly need sedation, we will prescribe you a medication to take immediately before coming to our office, so that it begins to work once we begin to work. For most though, these other alternatives work to alleviate anxiety, relax you, and make your dental experience comfortable and memorable.
NOMAD Portable X-Ray System: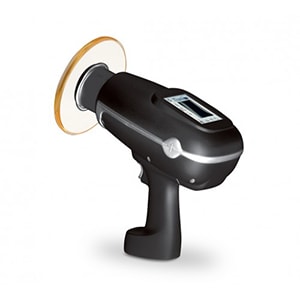 Ditch the Bitewing X-rays with Comfort Dentistry Technology
Do you hate bitewing x-rays? You are asked to "bite down", and hold this painful and uncomfortable contraption in your mouth while the dental assistant steps out of the room to activate the x-ray. Say goodbye to that experience, and step up to the comfort of NOMAD handheld x-ray technology.
Advantages of NOMAD:
Time sensor is in the mouth: The time required for the film/sensor to be in the mouth is greatly reduced since taking an image with the NOMAD is considerably faster than conventional x-rays.
Fewer motion-related retakes: The instance of retakes due to unobserved movement among children and special needs patients is significantly reduced when the operator remains chairside, thus decreasing patient anxiety and movement during an exposure.
Patient comforted by operator during x-ray, Allowing the operator to stay with the patient provides additional comfort to the patient and reduces anxiety to the patient
NOMAD can go to the patient easily, improving access to care for anyone, wherever they are.
Shielding to reduce patient exposure: The inherent shielding on the x-ray head and cone reduces exposure to the patient – safe to use even during pregnancy!.
Patient not required to be moved when sedated or during procedures: The NOMAD can be taken to the patient and easily positioned rather than moving the patient
Prescription Strength Numbing Gel
We use prescription strength topical numbing gel to numb the gums before an injection, eliminating that initial pinch from the needle. This helps alleviate nervousness or fear you may feel from the sight of a syringe.
Local Anesthetic:
We use a powerful local anesthetic that, when combined with our prescription strength numbing gel, makes dental procedures painless.
Does this sound like the Dentist you have been looking for? Are you ready to step up and experience Comfort Dentistry for yourself?
Call today, let us show you the path to erase dental fears, and experience a level of dental comfort and patient care you've been hoping for.
We make it easy for you to experience Comfort Dentistry for yourself. 
Call Westwood Family Dental today to book your Comfort Dentistry appointment: