Veneers for a Beautiful Smile
Let us Create Your Beautiful Smile with Veneers in Sedalia and Cole Camp, MO
At Westwood Family Dental, we love creating and giving our patients a beautiful smile. One of the procedures we use to do this is veneers.
Porcelain veneers are thin pieces of porcelain used to recreate the natural look of teeth, while also providing strength and resilience comparable to natural tooth enamel. It is often the material of choice for those looking to make slight position alterations, or to change tooth shape, size, and/or color. This procedure requires little or no anesthesia and can be the ideal choice for improving the appearance of the front teeth. Veneers are placed to mask discolorations, to brighten teeth, to close gaps and spaces between teeth, and to improve a smile.
Why Choose Veneers?
Veneers are an excellent alternative to crowns in many situations. They provide a much more conservative approach to changing a tooth's color, size or shape. Veneers can mask undesirable defects, such as teeth stained by tetracycline and damage due to an injury or as a result of a root-canal procedure. They are ideal for masking discolored fillings in front teeth. Patients with gaps between their front teeth or teeth that are chipped or worn may consider veneers. Generally, veneers will last for many years, and the technique has shown remarkable longevity when properly performed.
How Does the Procedure Work?
Porcelain laminate veneers consist of a compilation of several thin ceramic layers which replace original tooth enamel, and an adhesive layer. To apply a veneer, a very small amount of the original tooth enamel must be removed, usually less than a millimeter. This is essential as it creates room for the porcelain veneer to fit within the mouth and most accurately restore natural tooth function while creating an even better appearance than the original tooth.
The bond between original tooth and porcelain veneer is critical as it not only provides the esthetic perfection desired, but also a strong bond which is essential for correct veneer function. Light-sensitive resin is placed between the original tooth and the veneer and then hardened using a special curing light.
Porcelain veneers are a very successful option in many situations where the original tooth has developed poor color, shape, and contours. It is also a good choice for fractured teeth, gaps between teeth, and in some situations where the tooth position is compromised and there are minor bite-related problems. For some people, superficial stains do not respond well to tooth whitening or bleaching. In these situations, a porcelain veneer may be the best option.
What About Maintenance of Veneers?
For about a week or two, you will go through a period of adjustment as you get used to your "new" teeth that have changed in size and shape. Brush and floss daily. After one or two weeks, your dentist will ask you to return for a follow-up appointment.
The Benefits of Veneers
Since veneers are individually sculpted for each patient, it is nearly impossible to tell the difference between a veneer and a natural tooth. Unlike natural teeth, custom-made veneers resist coffee and tea stains, and cigarette smoke because they are made of high-tech materials.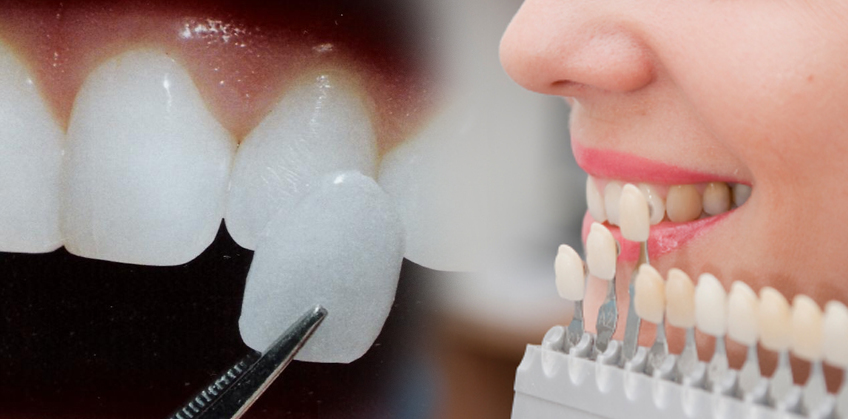 With veneers — as opposed to crowns — your natural teeth remain largely intact with only a minimal amount being altered to fit the veneer.
For teeth that resist whitening, veneers can make even the darkest teeth appear bright white.
We may also recommend veneers to quickly fix minor twists, overlaps, and small gaps.
Questions about Veneers or Cosmetic Dentistry? Give Westwood Family Dental a call, we have two locations to serve you.
In Sedalia: (660) 851-2128
In Cole Camp: (660) 668-3322